The Ifop Group has been committed to the societal and environmental issues since its foundation. In 2022 we wish to reaffirm the engagements through the creation of our own Corporate Social Responsibility, CSR Charter, to change durably collective and individual practices.
The will of the company is to take concrete actions every day to improve our impact on society.
Our approach is based on 4 CSR fundamental pillars:
Societal:
Involvement in the local activities of the 18th arrondissement in Paris, our headquarters' location. Actively contributing to the professional insertion of the disadvantaged workers or people with handicap.
Environmental:
Encouragement and generalization of environmentally responsible practices, accessible to everyone and in-line with our business.
Professional:
Conducting research with respect to the respondents and according to the deontological principles of our profession, adopting an ethical conduct in all circumstances. The Group follows the 3 main principles: honesty, equity, and integrity.
Social and well-being at work:  
Providing a fulfilling working environment for collaborators and employees.
Professional equality between women and men is at the centre of the Group's reflections and has been improving each year. Ifop obtained the grade 89/100 according to the professional equality Index by the French Department for Work and Pensions.
Our Asset: The Team Ifop Horizons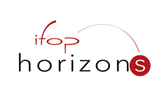 Real ambassador of this process, created in 2020 to embody and implement the CSR project inside the Ifop Group. The Team works continuously on the optimization of the operations in place and for the future, as well as encouraging the internal cohesion.
Who are they?
The Team Ifop Horizons is composed of 7 members who complement each other with their diverse background, generation, experience, hierarchy, and the level of sensibility to the CSR issues in their daily life.

Partnering with Ifop is entrusting your project to a committed team, guiding its clients to better understand CSR dimensions in France and internationally.
We invite you to download our CSR Charter for more information about our concrete actions and our partnerships.
*CSR = Corporate Social Responsibility
ESG = Environmental, Social, and Governance